Uber Ultimate Guide to Becoming an Uber Eats Driver
Uber Eats is a top-tier food delivery service. They partner with a mix of both national and local restaurants, delivering for those that don't have in-house delivery options. It's worth noting that this service operates distinctly from Uber's main taxi offering.
How to Apply for an Uber Eats Job
Interested in joining? Start by submitting an application on their website. This online form doesn't take long, but be patient – it might be a few weeks before you hear back. This waiting period accounts for the background check that's part and parcel of the process.
When applying, be ready with certain documents. Their website lists everything needed. Having everything at hand can speed up the process.
Uber Eats Start-up Costs:
While Uber Eats doesn't charge any upfront fees to start driving, there are other costs to consider.
For deliveries, you can use a car, scooter, or bicycle. If you don't already have any of these, you'll need to get one. While buying a second-hand bicycle might be an affordable option, it's still an expense.
Car users, remember: you'll need extra insurance that covers food deliveries. Plus, be prepared for increased fuel costs – at least until your first Uber Eats pay payment.
Uber Eats Drivers are Self Employed:
As an Uber Eats driver, you're self-employed. This means you get to pick when you work, but it also means handling your own taxes.
Despite being self-employed, Uber Eats offers certain benefits, like holiday pay. They'll provide full details once you're on board.
You need Insurance
Driving a car for deliveries? Make sure it's insured. Additionally, you'll need special insurance covering food deliveries. Don't worry; Uber Eats can suggest providers for these insurance needs.
How much can you earn?
Your earnings with Uber Eats vary. It depends on the number of deliveries, distances, and when you work. Working during high-demand times, like lunch and dinner, can boost earnings. And if you can pick up multiple orders from a single restaurant, you'll earn more in less time.
Referring friends to Uber Eats? That can sometimes pocket you extra cash too.
Final Thoughts
Working as an Uber Eats driver has its perks. With the freedom to choose hours and the potential for good earnings, it's an appealing option. Whether you're looking to supplement another job or dive in full-time, Uber Eats offers a straightforward path to start delivering delicious food to eager customers.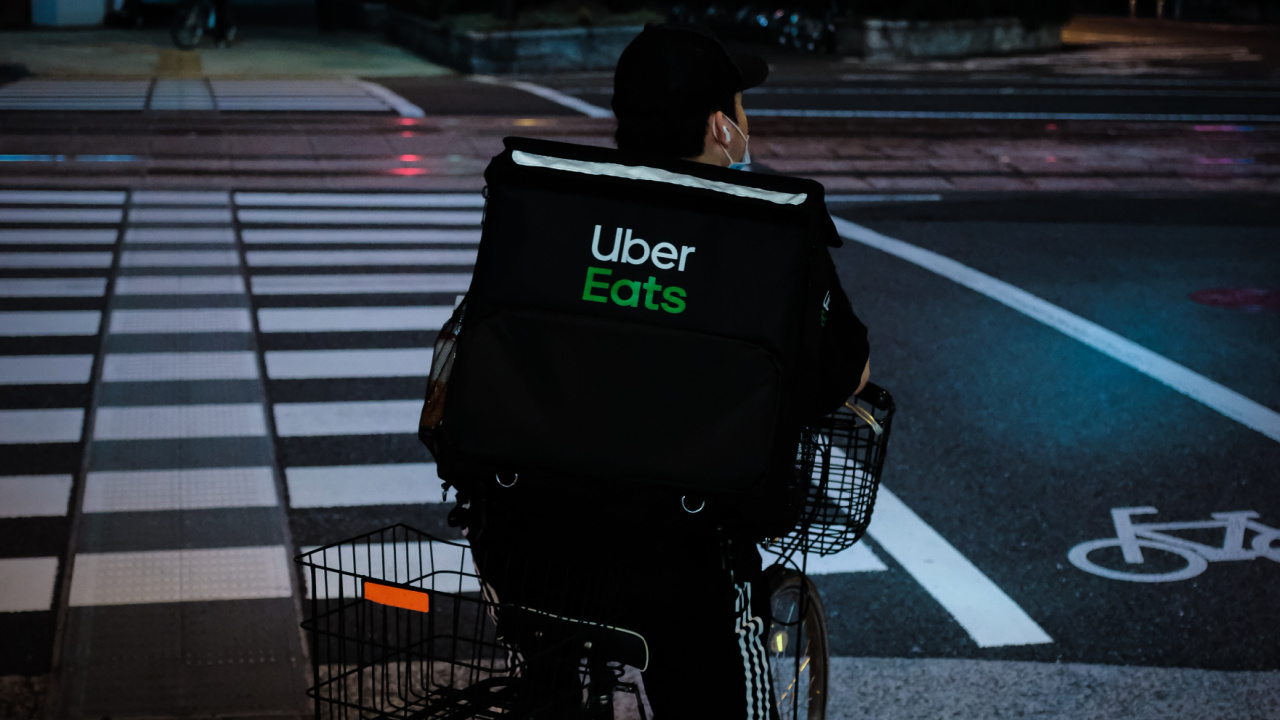 Frequently Asked Questions
In this section we answer your questions about working for Uber Eats.
How much can I expect to earn with Uber Eats?
Earnings vary based on factors like the number of deliveries, location, and the hours you work. Peak times, like lunch and dinner, typically yield higher earnings. Plus, if you manage to do multiple deliveries from a single restaurant, you could earn more in less time.
Is it worth delivering for Uber Eats compared to other delivery services?
Many drivers appreciate the flexibility Uber Eats provides, but it's always a good idea to compare with other services in your area. Some factors to consider include pay rates, peak times, coverage area, and user popularity.
Do I have to provide my own vehicle for deliveries?
Yes, you'll need a car, scooter, or bicycle. Make sure it meets Uber Eats' requirements and ensure you have the necessary insurance, especially if using a car.
Are there any initial costs to start driving for Uber Eats?
While Uber Eats doesn't charge any upfront fees, there could be indirect costs. This includes potentially buying a vehicle, getting special insurance for food deliveries, and accounting for fuel.
What kind of insurance do I need for food deliveries?
If you're using a car, you'll need comprehensive insurance that covers food deliveries. Uber Eats might be able to recommend providers. You will also need public liability insurance while you're delivering.
How does the payment process work?
Payments are processed through the Uber Eats app, often weekly. Tips from customers get added directly to your earnings.
Can I work full-time with Uber Eats?
Yes, you can work as much or as little as you like. The flexibility is a major attraction for many drivers. However, earnings fluctuate, so it's advisable to track them over time to plan effectively.
Are there any requirements to become a driver?
Beyond having access to a suitable vehicle, you'll undergo a background check. You also need to provide specific documents, which are listed on their website.