The Best Orchard Toys Games and Puzzles to buy your Child in 2023
When it comes to choosing puzzles and games for children, there's a need to know that we're giving them the very best. Yes, we want these games to be fun, but they also need to be educational and allow children to develop and grow. This is where Orchard Toys come in.
Orchard Toys games are some of the very best that you'll find. You can be sure that both games and Orchard Toys puzzles are of the best quality as well as providing everything that children need.
Read on as we look at just who this company is and as we share some of our favourite Orchard Toys games.
Who are Orchard Toys?
The success of Orchard Toys can be traced back some 50 years now. This is a company that begin with just a kitchen table to work on before it grew and became an award-winning brand. The first offering from Orchard Toys were the likes of blocks and stencils that were provided for a local nursery.
The business has gone a little beyond this now with over 50 countries now being supplied with Orchard Toys games and puzzles. This impressive growth has led to Orchard Toys being regarded as the leading producer of educational toys, both in the UK and abroad.
While the company may well have grown to cover the globe, one thing that UK customers are big fans of is the fact that every game is still designed here. With a head office in Wymondham, Norfolk, this is a company with strong British roots that it's proud of.
If you're a parent now, there's a good chance that you're already well aware of Orchard Toys. These games and puzzles are so durable that they've been passed down from grandparents to the next generation and the next.
When it comes to children seeking new puzzles and games, many parents already know just what Orchard Toys has to offer and they know just what they're buying.
What ages are Orchard Toys suited for?
If you're looking to invest in Orchard Toys games or puzzles, you'll need to know what age groups these are suitable for.
The great news here is that children can start to enjoy, and benefit from, these games from a young age. In fact, children as young as 18 months are able to be involved.
At the other end of the scale, children can continue to benefit from these games up until the time they're 8 years old, or even a little older. This means that Orchard Toys cater for children all the way up to key stage 2 in the UK.
With a mention of key stages, you may be wondering if these puzzles and games have any educational value. The short answer is "Yes". As for the longer answer, read on to find out more.

Are Orchard Toys puzzles and games educational?
There are so many games and puzzles to choose from and that means that it's not always easy to know what's right for your child.
For us, one of the biggest draws is the educational value that a game holds. Yes, fun is more than just a little important, but when a child is so young, they are able to soak up so much information and really benefit from any input.
When it comes to the benefits offered by the games and puzzles produced by Orchard Toys, these include:
Language development:
The early years of a child are vital when it comes to their ability to communicate. From the almost babbling of the early months, it's amazing to see just how much a child can develop before they reach nursery, and then how much further they go before the start of secondary school.
Orchard Toys prides itself on the fact that its games and puzzles assist in this area. The games and puzzles produced all encourage children to communicate and interact. This not only boosts language skills, but it also boosts self-confidence. Of course, an increase in self-confidence also helps to propel children in all areas of learning.
Literacy:
The earlier that a child can get to grips with literacy, the better. Being able to recognise words and letters is the foundation of all that's needed further down the line. The ability to read, and to comprehend meaning, is a skill that's needed for our entire lives.
Orchard Toys has a vast selection of games that focus on these skills. From a very early age, children can engage with games and puzzles that allow them to appreciate what letters and words are. This starts by them recognising shapes that have associated meanings.
Numbers and counting:
It appears that children, and young adults, in the UK face more than their fair share of struggles when it comes to numeracy. This is the reason that the Prime Minister, Rishi Sunak, recently announced his plans to make maths compulsory until the age of 18. An understanding of numbers, from an early age, is vital to future success.
Orchard Toys games and puzzles feature plenty of titles that have a focus on this area. These number-based titles allow children to reinforce their learning and apply this learning to a range of situations. Games for younger children start with the basic of number recognition and then progress through to adding, subtracting and multiplying. This is all done while children are having fun, not even realising that they're learning.
Colour recognition:
Another area where Orchard Toys benefit children and their development is colour recognition. While this may be seen as a basic skill, the truth is that it assists in an abundance of other areas. There are proven benefits that spill over into areas such as science, reading and language too.
Orchard Toys puzzles and games allow children from an early age to get involved with fun activities that allow them to sort and organise colours.

Shape recognition:
It's pretty amazing when we step back and see the rate at which children learn. They go from being unable to recognise a single letter to being able to read complex words, entire sentences and full paragraphs. The thing is this all starts with the ability to recognise shapes
Orchard Toys games introduce children to the way that they can differentiate between shapes. As they continue to develop, this then allows them to distinguish between letters and numbers too.
Matching and memory skills:
Being able to store and recall information is a vital skill that everyone needs to develop. The earlier that this skill is developed, the better. Orchard Toys offer numerous games that allow children to get off to the best start here. Games that allow matching from memory are a great way to tap into a child's ability to recall information and this can then be applied to other areas of life.
The games here go beyond just basic matching. They allow children to develop the ability to recognise similarities and differences as well as being able to recall sequences and patterns. This goes even further by helping children to recognise, recall and then act on a set of instructions.
Observational skills:
This is another area in which Orchard Toys come to the fore. The range of games on offer encourages children to develop their observational skills in ways that set them up for the future. This is achieved by allowing children to learn all about similarities and differences. They also learn how to group objects together by the likes of colour, size and shape.
Sound observational skills lead to adults who are able to communicate effectively and with empathy. It allows for the development of effective listening, as well as encouraging an analysis to take place before decisions are made. This clearly has significant implications in many areas of life.
An understanding of the world:
Orchard Toys puzzles and games have the ability to transport a child to an entirely new experience. For any child, the thought of jungle animals, an outer space experience or even a dinosaur encounter is more than just a little exciting. What they don't appreciate is that, alongside this exciting play, they are learning at the same time.
It's not just about far-flung experiences though What matters just as much is exposing children to everyday activities such as shopping, cooking and enjoying sports. Orchard Toys offers games that allow exposure to numerous aspects of life, and this can only ever be seen as a positive.
Hand-eye coordination:
The time comes when children start to explore symbol games such as catch. These symbol games allow children to move to enjoy a range of sports as well as meaning that they can easily carry out day-to-day activities. Before the simplest of catch games can be played, there needs to be a degree of hand-eye coordination. Orchard Toys play a major role here.
When you look at Orchard Toys Puzzles, it's clear to see that these require hand-eye coordination to complete. There is a need for children to examine pieces based on their size and shape as they decide where they fit. When the decision has been made, there is then the physical act of actually inserting the piece.
Personal and social skills:
For a child to flourish, there is a need for more than intelligence alone. While Orchard Toys games can help to develop a host of skills and aid learning, there is also the need to ensure that personal and social skills are also considered. The good news is that these games help in this area too.
Orchard Toys games teach children how to play together. It allows them to understand the etiquette of playing a game and this involves the likes of waiting for their turn. These games also have winners and the flip side is that this means that children can lose too. This is something that's important to understand in life as a whole and games are a great early introduction to this.
Imaginative play:
Children learn a great deal by mimicking the world around them. Games that allow children to take on a role are an amazing way of letting them develop an understanding of what else goes on outside of the home environment. We're pleased to say that Orchard Toys games are a great tool to use for encouraging this type of play.
There are games that allow children to take on the role of waiters, shopkeepers and more. These all allow children to act out things that they have witnessed and this means that they develop a greater understanding of the wider world.
Our favourite Orchard Toys games and puzzles
When it comes to the full range of Orchard Toys games and puzzles, we simply wouldn't have the space to cover this. Instead, we thought it would be worth sharing a selection of our favourites. We've included games that are suitable for a range of ages and, as we take a closer look, you'll be able to recognise the educational benefits offered, as well as the sheer amount of fun! Let's take a look now: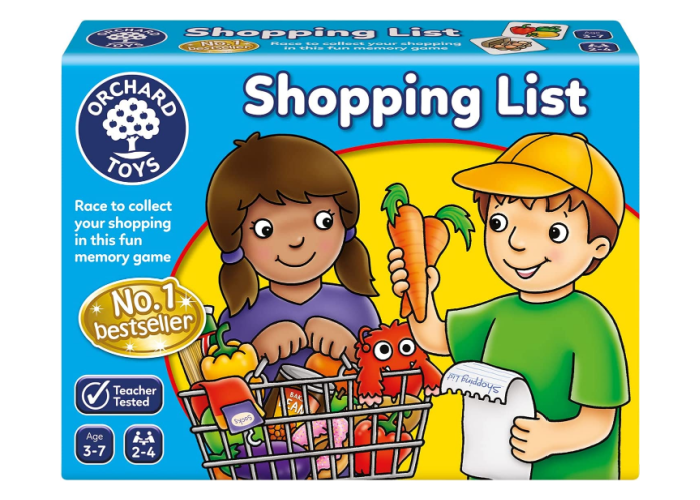 Shopping List:
This game has to be at the top of our list. That's because it's the most popular Orchard Toys game ever made. As well as being hugely popular, this is a game that's also award-winning: it took Gold in the Mother and Baby Awards 2013. So, what exactly is this game all about?
This is a game that's about matching and memory. Aimed at 3 to 7-year-olds, there are 32 items on a shopping list and each of these items has a card that can be placed in a trolley. The winner of the game is the player who completes their shopping list first. A turn sees one card being turned over. If It matches anything on the player's shopping list then they place it in their basket. If it doesn't match, it gets turned back over and other players need to remember where it is for their turn.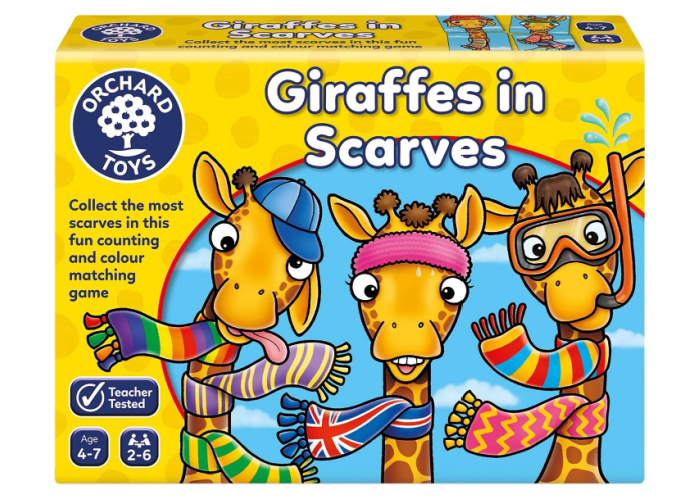 Giraffes in Scarves:
Something that you'll notice with Orchard Toys games is that they offer the perfect blend of both fun and learning. Giraffes in Scarves is a perfect example of just how well Orchard Toys pulls this off.
This game is for players aged 4 – 7 and can be played by 4 – 6 players at a time. The skills that come into play here are related to recognising colours, memory, counting and observation.
The aim of the game is to collect as many scarves as possible. These are for your giraffe which has an incredibly long neck. This long neck means that the giraffes can wear numerous scarves and the brightly coloured design of these holds huge appeal for younger children.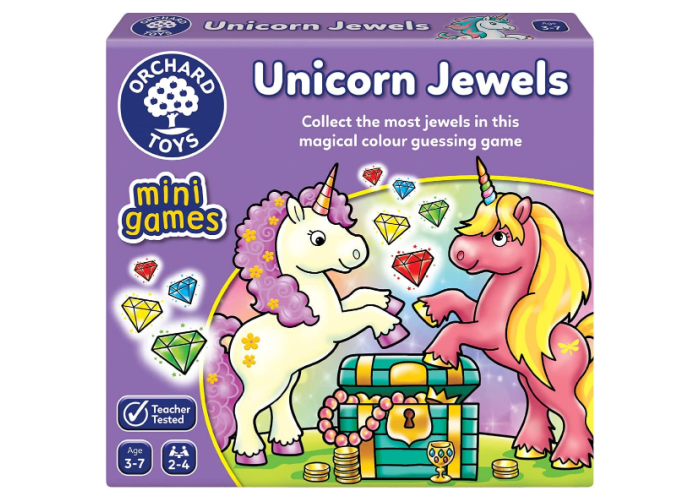 Unicorn Jewels:
This is another great title to come from Orchard Toys. This is aimed at players aged between 3 and 7 and its small size means that it can easily be transported and played anywhere. The skills that this game encourages are colour recognition, imaginative play and the development of personal and social skills. Above all else though, it's just great fun.
The aim when playing Unicorn Jewels is to collect the most gems. When a spinner is spun, a player chooses a matching star, sun or moon. When it comes to collecting gems, players need to successfully guess what colour they're going to be. A correct guess means that the player can add the gems to their chest. By the end of the game, the winner is the player with the fullest chest.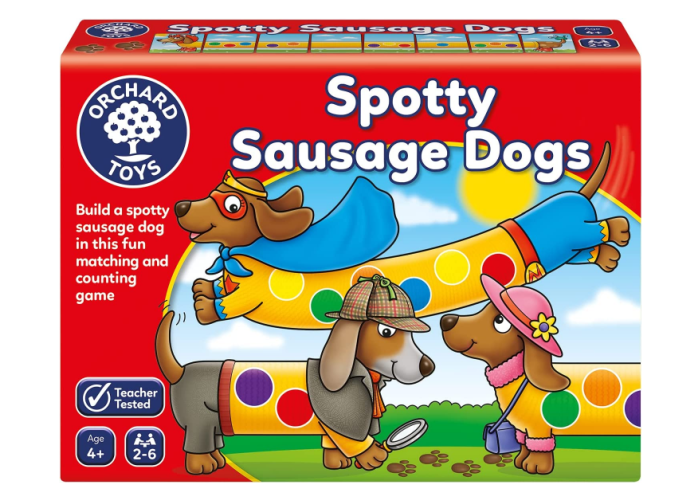 Spotty Sausage Dogs:
If you wanted even more proof that Orchard Toys games are immensely fun, then Spotty Sausage Dogs should give you just what you need.
This is a game aimed at players who are 4 and over, and can be enjoyed by 6 players at the same time. You can be sure that this will hold the attention of everyone playing leading to a little showing of a competitive streak.
To play, and win, this game, you need to build your sausage dog and make sure that yours ends up being the one with the most spots. Players spin the spinner and then need to find the matching card to add to their dog. You can build your dog so that it gets longer but it's not the size that matters: the winner is the one with the most spots.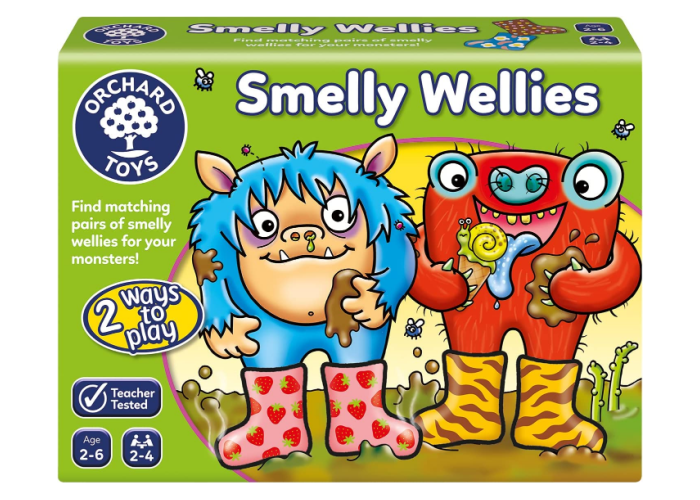 Smelly Wellies:
An Orchard Toys game that's aimed at players aged from 2 to 6. This is a simple game that provides a tremendous amount of fun as players rely on their memory and matching skills. These skills will help to find a matching pair of wellies for your monsters. Whichever player fills their board first is the winner.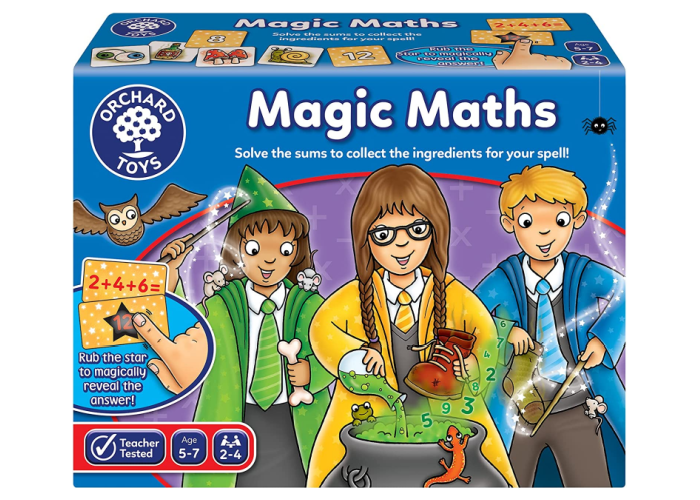 Magic Maths:
This game is one that can give your youngster a real boost in all things maths. Aimed at players aged 5 to 7, it has been created with KS1 in mind. The design had input from teachers and other education professionals and that's what has helped to make it so effective when it comes to honing maths skills.
As you play, the aim is to solve sums and then fill your board with some pretty disgusting spell ingredients. These include things such as brains, bogies and even worm-infested cupcakes.
Aside from the spells, you might be wondering what else makes this game magic. Well, when a player has worked out a sum, they then rub heat-sensitive patches to reveal the answers by magic.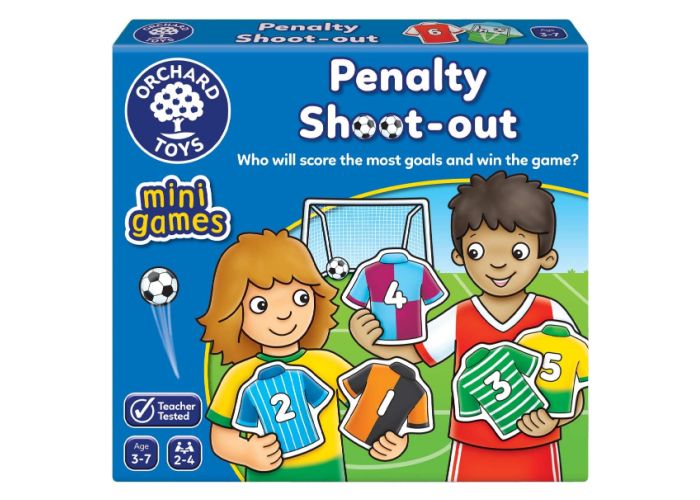 Penalty Shoot Out:
If you have a child who's a bit of a football fan, this Orchard Toys title is one that may appeal. The game is all about aiming to be the number one striker with as many goals as possible. This is another fun title that has plenty to keep children entertained.
So, how do you play? You simply roll a dice and then match the number of spots to the number that appears on the football shirts. The winner is the one that ends the game with the most footballs on the back of the cards.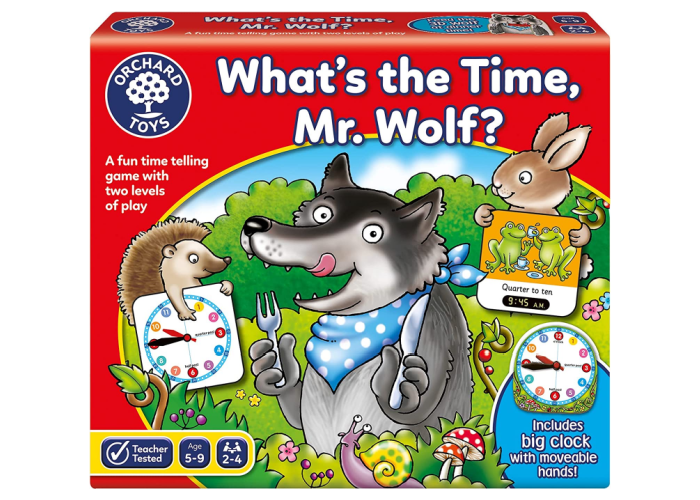 What's the time, Mr Wolf?
We've spoken at length about how Orchard Toys games are the perfect mix of fun and education. What's the time, Mr Wolf? is another great example of when this is done. While many children learn to tell the time with a digital watch or clock, this game allows them to master analogue as well.
The game works by players racing their characters around the board, all while matching times to a central clock. The hungry wolf is there to throw a spanner in the works!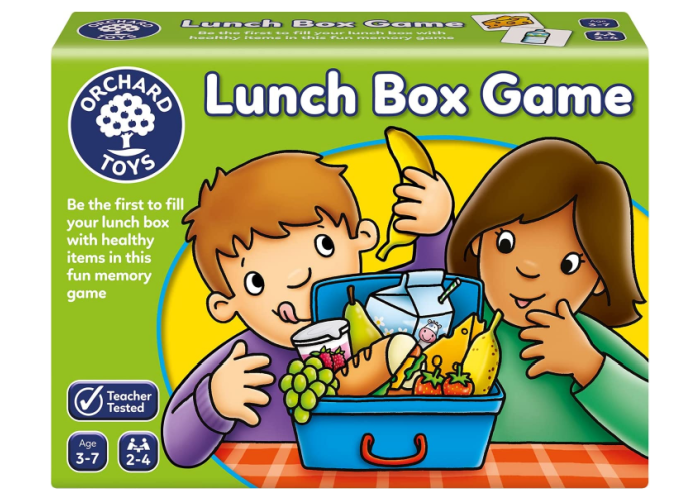 Lunch Box Game:
Orchard Toys Shopping list, as we have seen, is the most popular game that this provider has ever released. The good news is that if your child enjoyed playing that, they're going to love playing Lunch Box Game. This is all about developing, and using, memory skills in a race to fill a lunch box as soon as possible.
The cards used feature bright illustrations that show some of the tastiest, and healthiest, food around. You'll come across some great lunch box snacks such as strawberries, raisins and more.
While this is great for younger players, older ones can still enjoy it too. By mixing things up a little, the game can involve talking about healthy foods and the benefits that they have.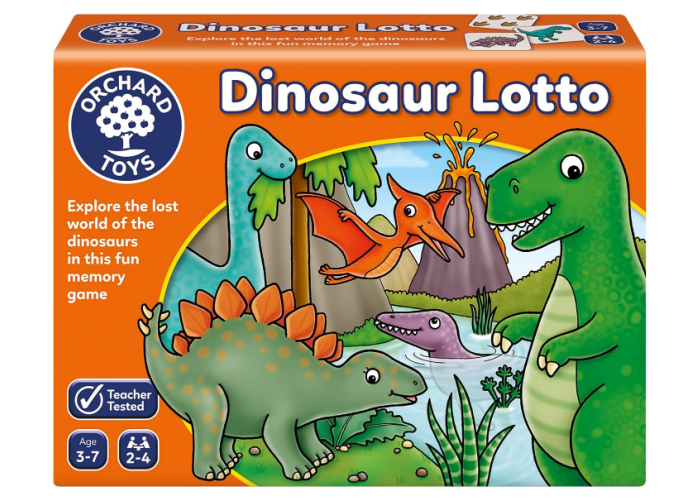 Dinosaur Lotto:
There's a pretty good chance that if you have a child they will be fans of dinosaurs. This is something that practically all children seem to go through at some point. This Orchard Toys game is perfect for the dino fan who's aged from 3 to 7 and is looking to have some fun.
The winner of this game is the first player to fill their board with matching dinosaur cards. By turning over the board, there's another version of the game that's a little more complex and will appeal to the slightly older player.
Either way that you decide to play, you can be sure that there are plenty of dinosaurs to get familiar with.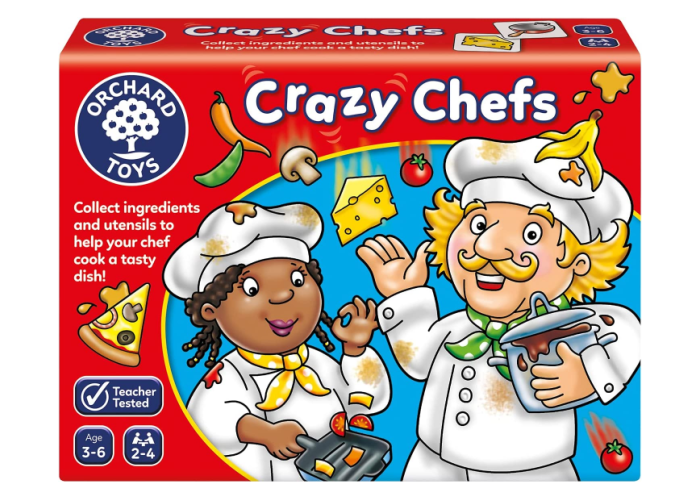 Crazy Chefs:
A great way of getting your children interested in cooking, Crazy Chefs sees players matching ingredients cards to their boards. This is purely a game of chance but it's a great way of getting children into a life-essential skill.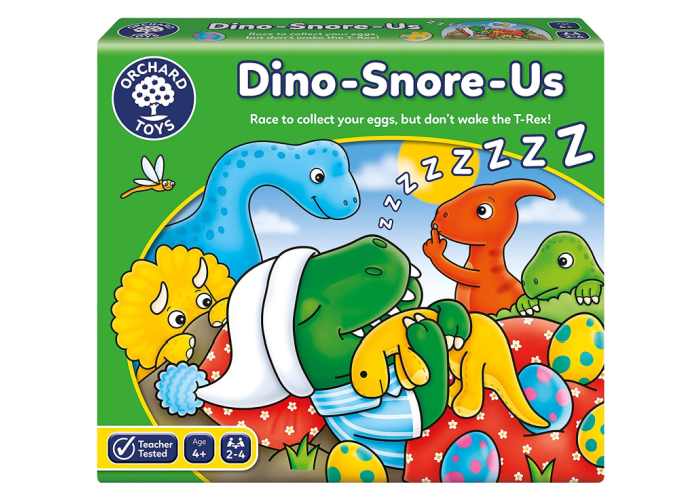 Dino-snore-us:
Orchard Toys games also offer a great way of educating players even with games of chance. Dino-snore-us is all about retrieving the eggs that have been stolen by the T-Rex. Players chase up the path to get their hands on the eggs but if the T-Rex wakes, it's back to the start.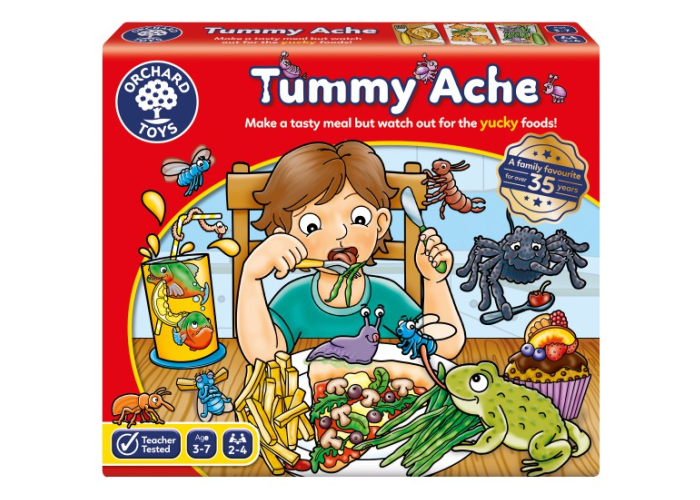 Tummy Ache:
This Orchard Toys game has been hugely popular for over 35 years now. The aim here is to put together an edible meal while avoiding the disgusting combinations that lead to tummy ache. It's a quick and easy game that provides a great tool to get children talking about food.
To win, a player needs to be the first to fill their playing board. This means 5 food cards that make an edible meal.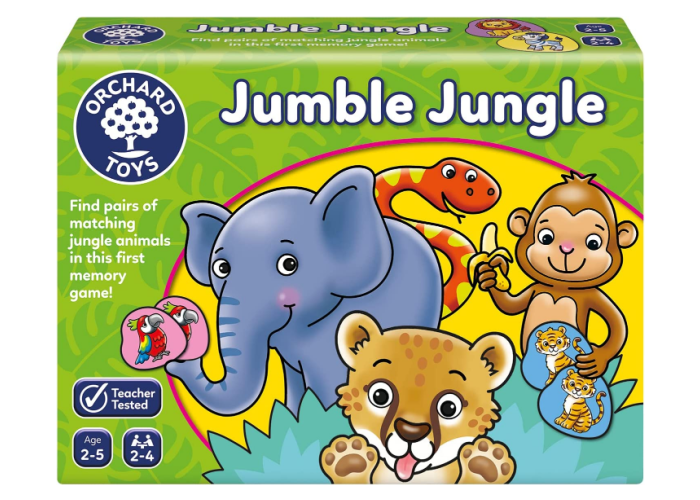 Jumble Jungle:
This is a matching game and it's one that's played at pace! The winner here is the one that collects the most matching pairs of jungle animals but cheetahs need to be avoided! These cards allow another player to pinch one of your pairs.
When the game is all done, it's great to have a chat with children about the different animals that have been seen. It could be talking about how they look, the noises they make or what their young are called.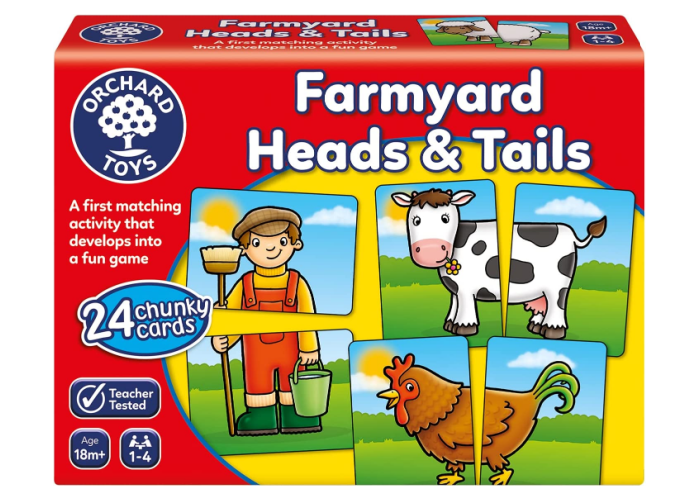 Farmyard Heads and Tails:
Another Orchard Toys title that proves that a simple idea can bring a great deal of fun. For younger players, this is a matching game that sees them turning over cards and trying to match the correct heads and tails.
Older players can make this a little more difficult by turning the cards upside down so that it becomes a memory game.
These cards are large and chunky, and that makes them perfect for little hands. This is another award-winning game having won Bronze in the Mother and Baby Awards. This win was in the Best Toddler Toy Under 24 Months category
Final thoughts
We hope that our whizz through these titles has been insightful and shown you just how great Orchard Toys games and puzzles really are.
The fact that this company is going strong after more than 50 years speaks volumes about the quality of what it produces. The awards that have been won just go to reinforce the fact that these games and puzzles offer great educational benefits.
If you have a young child in your life, whether that be your son, daughter, grandchild, niece, nephew or anything else, you'll already know that buying gifts can be tricky at times. The truth is that Orchard Toys offer the perfect solution by providing games that are highly entertaining as well as aiding learning and development.